Chain Link Fence and Gates for Auburn Property Owners
When it comes to chain link fence installation in Auburn, WA, Seattle Fence Company has been the expert to call since 2006. We install three types of chain link fences:
Galvanized
Black vinyl
Green vinyl
We can add chain link fence slats for Auburn property owners who want their fence system to provide privacy or conceal certain areas. Our services are also available for the installation of chain link gates of all sizes.
If you are considering chain link fencing, call us now to get a free estimate on chain link fence installation cost for your property.
Benefits of Chain Link Fencing for Auburn Residents
Chain link fencing is a great option for Auburn property owners who are interested in getting a fence that is:
Tough and reliable
Aesthetically appealing
Maintenance-free
Low-cost
The best thing about chain link fencing for Auburn residents is that they can enjoy its benefits for both commercial and residential uses. This practical and versatile fencing option works well on all types of properties.
You should come to us for the finest professional help in designing and installing chain link fencing for your home or business place. Depending on your needs, you can have the chain link fencing in any height, ranging from 3ft 6in to 8ft. We can install fence slats in a variety of colors such as green, black, brown, and white.
Why Choose Us for Chain Link Fence Installation in Auburn?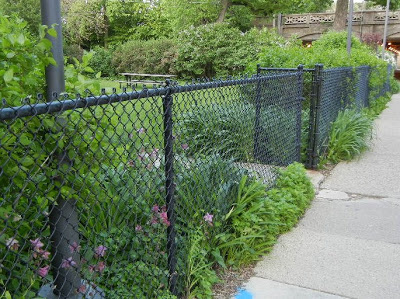 A lot of work goes into chain link fence installation in any property. To make sure that the fence does not lean or collapse, all the terminal posts have to be installed within a concrete footing. From there, the line posts are placed at equal intervals, together with top rails. The addition of bottom rails or tension wires is optional. After the frame work is ready, the fence is stretched and locked in place.
Choose our BBB-accredited fencing company for chain link fence installation in your Auburn home or business place. With us handling the job, you can be sure that:
Top grade chain link fencing materials are used
The fence matches your precise design and height specifications
Installation is done impeccably and in quick time
Our chain link fence installation comes with a 5-year warranty on labor and 1-year warranty on materials.
Make Seattle Fence Company your first call when you need chain link fencing installed in your Auburn home or business place. Call 206-763-3433.