Wood Fence Installation for Residential and Commercial Property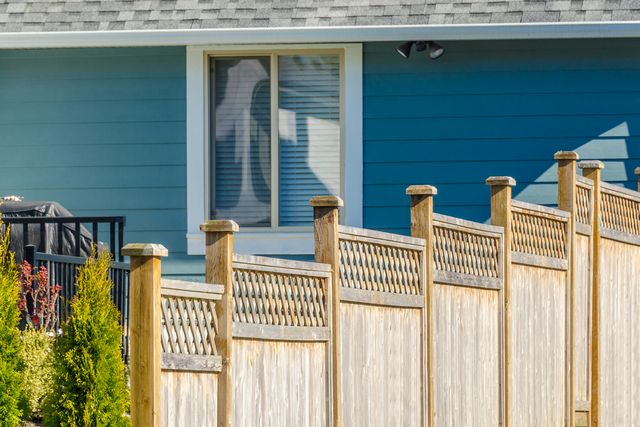 Dating back some 400 years, the most favored residential fencing material in this country has been wood. In fact, in 2007 Americans installed 59,000 miles of wooden fence equal to circling the globe twice plus!
We are a full-service professional fence contractor providing a wide range of fence installations and repairs for residential and commercial properties.
Wood fencing is a great way to add privacy, protection, beautiful aesthetics and curb appeal as well as safety to your property. A classic wooden fence brings a welcome improvement to a well-manicured landscape.
Residential and commercial properties share the same reasons for wood fencing installation:
Each application values privacy
Safety requirements
Aesthetic appeal that defines your property in an attractive manner
Call Seattle Fence Company for an exceptional wood and design choice with solid wood fence panels that will provide definition and accent to your residential or commercial property for many years.
Wooden Fence Styles to Match Your Décor and Needs
Wooden fence styles can be used to make dramatic changes in your landscape and to improve your curb appeal.
Matching the décor and architectural design of your home is important. Wood fence designs can be installed with an almost seamless extension of your home into the back yard. Or you may prefer rustic wood fencing constructed out of natural timbers designed or fashioned after wooden garden fencing to accentuate all the natural beauty and feel of your country cottage.
If you enjoy your outdoor living spaces, a backyard featuring a traditional wood fence with lattice extension adds another layer of detail to give your yard a finished look.
These are a few benefits of wooden yard fencing:
Easily and quickly customized to match your décor and surrounding environment
Easy to maintain and repair
Tends to improve with age as the wood matures
Environmentally friendly
Popular and cost effective
Call us for more information on choosing wood fencing to match your architectural home or commercial building style.
Why Choose Us to Install or Repair Your Wood Fencing?
One of the major advantages of choosing us for installing your wooden fence is the longevity and uncompromised value associated with our use of a post on pipe wood fence system.
What is better than the integrity and strength of steel with the natural beauty of wood?
These are a few additional reasons to choose us for wood fence installation or wood fencing repair:
Well-established and experienced fence contractor since 2006
Our strong reputation in the industry
Trusted by residential, commercial and industrial clients
Highest quality fence materials, installations and repairs
Expertly trained installation and repair crew
Customer service excellence
Competitive wooden fence prices
Call Seattle Fence Company to learn more about installing or repairing a fence at your residential or commercial location. 206-763-3433